Hosting Services in Uganda
Get the best Hosting Services at Affordable Prices
Select your Hosting Plan & Domain
Welcome to the number one Provider of Unlimited Web Hosting and Web design services in Uganda!
Our Website Hosting plans remain unmatched, we guarantee you 99.9% uptime and available 24/7 for support on all web hosting plans, through email, online chat and phone support. We now offer you a free SSL Certificate and Advanced Firewall Protection.
Best Website Design and Web Hosting services in Uganda.
Webstar is a professional web development company based in Kampala, Uganda focused on providing the best Website Design and Hosting services in Uganda, Rwanda, and South Sudan. Our Web design portfolio says it all, "We Love What We Do". We focus on meeting the client's needs and making sure our client is happy at the end of every website project.
Our team of expert designers is here to create a stunning online presence for your business. With our top-notch services in Uganda, we ensure that your website not only looks visually appealing but also functions flawlessly.
For businesses, we prioritize search engine optimization (SEO) to maximize online visibility  so that your website ranks on Google's first page,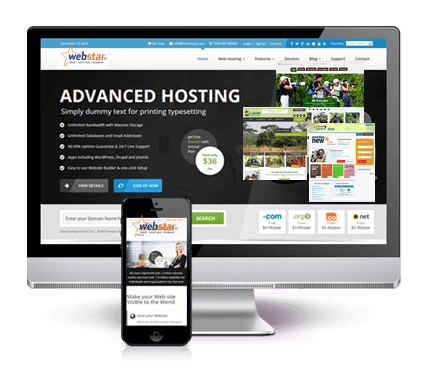 With an experienced team consisting of the best website designers and web developers in Uganda, We continue to stand as the best and most creative company in Uganda when it comes to web development, website design, Mobile Apps, Search engine optimization (SEO), web hosting, domain registration, online digital branding.
Webstar Uganda is considered the best Web hosting and Website design Company in Uganda, providing cheap & reliable unlimited web hosting in Uganda with 99.9% uptime guaranteed on our Cloud Linux, and windows hosting Servers. Webstar Uganda will give Free unlimited Website hosting for those who take up a website design package.
10 years of experience in the SEO Industry, We have done Search Engine Optimization for most of the successful tour and travel companies in Uganda and Rwanda. We use white hat strategies and approaches to be deployed for a particular website for better search engine rankings. We will expand your relevancy for your top phrases & keywords.
Get your Website Hosted at low Prices
Webstar Servers are considered the most secure servers in Uganda boosted with a free SSL certificate on all packages to ensure our clients websites are up and running at all times.
Web Applications Developers In Uganda
We are a web application development, Web hosting and Domain registration company driven on changing the way our clients imagine about the web by putting users, business, and innovation first. When it comes to business software, a deep consideration of your organization compels our design. We curry out a thorough analysis, visualizing a number of steps at the forefront to predict how our solution can improve all aspects of your business processes.
Webstar Uganda offers the cheapest ,most affordable, low cost and reliable web design and hosting services in Uganda. and East Africa .. Our web hosting services strech as far as Uganda, Kenya, Tanzania, Rwanda, Burundi, Sudan and the whole Africa. We stand as the only web hosting company that provides Unlimited web hosting space and bandwidth that allows you freedom to host unlimited website files
Client Reviews and Testimonials
I recently worked with Webstar for my business website design and SEO needs and was thoroughly impressed with their services. The team at Webstar is incredibly professional, knowledgeable, and dedicated to delivering high-quality results.I highly recommend Webstar for anyone looking for a reliable and effective web design and SEO company. Their expertise, attention to detail, and commitment to delivering exceptional results are truly impressive."
Ayebaza Esther
2023-03-10
Webstar offers very professional services!! Great customer care and delivery. Looking forward to working with you again .
Cynthia Solome N
2023-03-10
Webstar are the kings of websites and IT services in Uganda
Mpiriirwe Racheal
2023-03-09
It is a distinct pleasure for me to recommend Webstar Uganda to any and all interested parties. They have been professional, comprehensive and competent throughout the process of our working together. We feel that we have established a relationship with them for years to come. The reaction to our new web site has been overwhelmingly positive; as one commented the site is FANTASTIC. The same can be said for our view of Thrive's work for us.
Mpuga Solomon (thewisesolo)
2023-03-09
Komujuni Provia
2023-03-09
There the best in website developing. Keep positive always.
Are you looking for web products in Uganda? Webstar Uganda is the place to go. Excellent service, you get what you ask. Faster delivery, iterative testing and easy commissioning.
abdul azizi Rajab
2023-03-09
At Webstar Uganda, we value quality in our website design and web Hosting service because Quality is key in all that we do. We strive to see to it that your website is not only visualy appealing but usable, secure and most of all works for your business, that is why we consider designing your website or webapplications professionaly. We get our clients involved in the process of designing their website right from the start. Our Experience in the website design Industry rolls back from 2007 delivering exquisite web design, web Hosting and Systems to Government organisations, NGO's, Hospitals, Schools and many more.
Your are lucky to have finally found us, because your success story starts with Webstar Uganda. Get started now by Requesting a Free Quote. We'll respond with a Quote as soon as possible.
In today's digital world, your website is the first interaction consumers have with your business.
That's why almost 95 percent of a user's first impression relates to web design and can have an immense impact on your company's bottom line.
Let us help you get started with:
FREE Domain Name | FREE Website Stats | FREE e-Commerce | FREE Content Management System setup (CMS) | Email Accounts 
Easy & Affordable Hosting Servers
We offer different Hosting Packages (Reseller hosting, windows hosting, VPS hosting and Dedicated server hosting) to meet your web hosting requirements. Website hosting now in Kampala Uganda, Kigali – Rwanda, Nairobi – Kenya, Juba – South Sudan Tanzania. Call us today for cheap website hosting in Uganda!.
If you're fed up with your current web hosting company and looking for a better web host, then look no further. Our website migration IS free for cPanel accounts up to 5GB or for up to 3 websites/databases. We make it easy for you to move from your current web hosting company.
Whether you're a small local business or a large corporation, our website design services in Uganda are tailored to meet your specific needs and budget. We offer flexible packages that include custom designs, responsive layouts, content creation, and ongoing maintenance to keep your website up-to-date and secure.